LANDSCAPES
Having grown up on the prairies of Saskatchewan, and then moving to the Foothills of Alberta, it was inevitable that the Rocky Mountains would capture my creative eye with their majestic beauty.
Acrylic on Canvas - 24"x 48" - AVAILABLE
Something's Brewing was inspired by another stunning landscape near Longview, Alberta. I was attracted to the way the snow, like a fine lace, drapes itself over the rock hard mountain surface - almost softening it like the rolling hills below. The sky always plays a part in the beauty of the land, I particularly like the presence of clouds forming above. They always add to the mood while enjoying those amazing Rocky Mountains of the foothills.
Acrylic on Canvas - 24" x 48"
Original SOLD - Available as a Limited Edition Print
This piece speaks to 'that time of day' when the land is dark, the sky is brewing and the mountains shine. Will it rain, storm or even snow? The air is still and the view is breathtaking.
20" x 20" Acrylic on Canvas
Sold - Private Collection Canada
Just off Cowboy Trail (Highway 22) Hartell, Alberta is home to a beautiful display of the foothills leading up to the Rocky Mountains. It's always been a favourite spot to enjoy the scenery when I make my way home south to Longview.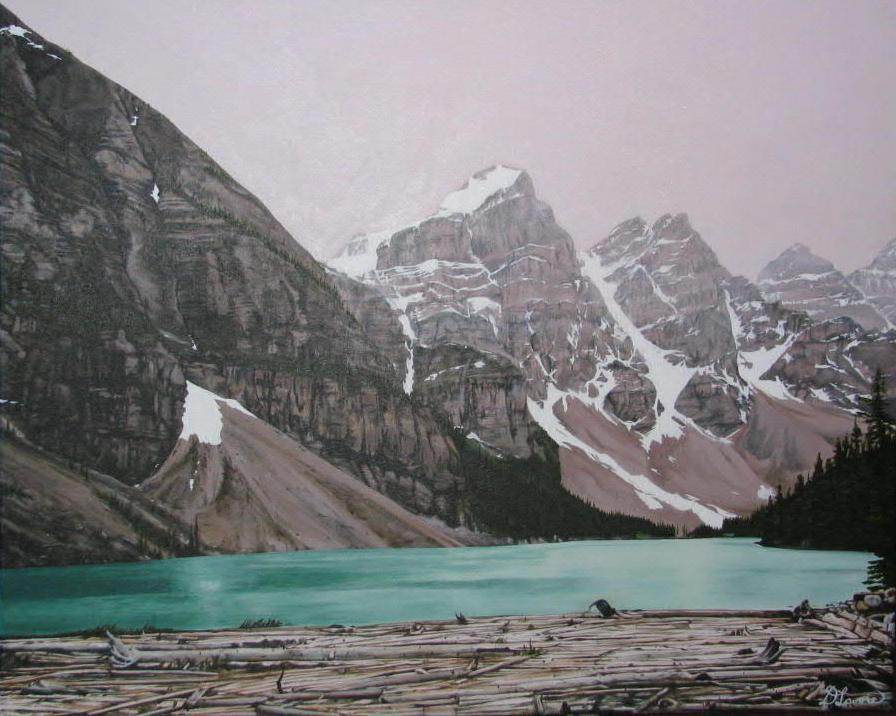 Acrylic on Canvas - 24" x 36"
SOLD- Private collection - Canada.
Many tourists to the Alberta Rocky Mountains miss seeing this magnificent scene of Morraine Lake. The turnoff is just before famous Lake Louise. I was fortunate to experience it on this misty magical day.
Coming Home on coal trail
Acrylic on Canvas - 20" x 36"
SOLD - Private Collection - Canada.
One of my favourite scenic routes is driving home to Longview on Coal Trail. This particular day was clear and sunny with the perfect amount of snow dotting the mountains' peaks. I imagined living in that amazing location and what a marvelous feeling it must be to coming home it. Mind you I was on my way home, too!
Acrylic on Canvas - 24" x 48"
SOLD - Private Collection - Canada.
While driving home to Longview on Coal Trail I came across this scene and it stopped me in my tracks. The dreamy colour of the landscape contrast to the snow's stark outlines on the mountains creates a magnificent panorama. Everyday of every hour the surroundings, in particular the mountains, around here changes.
hay bales under the highwood range
Acrylic on Canvas - 40" x 60"
SOLD - Private Collection - Ecuador
A big sky, massive mountains and hay bales – a true Alberta landscape. Having grown up in the city and with an artist's eye, I always look at these massive round hay bales as an art form rather than in a rancher's context. Add a backdrop of the magnificent Rocky Mountains and it becomes awe-inspiring. This scene was found along Highway 22 near the Bar-U Ranch, SW of Longview, Alberta.
Acrylic on Canvas - 11" x 14"
SOLD - Business Collection - Canada.
Autumn and spring are my most favourite seasons of the year. It is when the colours come alive on the landscape. The burnt, earthy colours of autumn always take my breath away. This scene is located just behind Hartell, Alberta along the Highway 22.